Tropincana Garden City - LOCATION
Tropicana Garden City is located within Embarcadero, a 17-hectare mixed-use development along Sumulong Highway in Marikina City. The Embarcadero is nestled against the wondrous backdrop of the Sierra Madre Mountain Range in the East and spectacular view of the metropolis in the Southwest.
Tropicana Garden City offers Green Architecture that foster preservation of environment and respectful of mother earth, while allowing its residents the freedom to live a modern life.
Tropicana Garden City is located along Sumulong Highway and is conveniently accessible to establishments like Marikina Sports Center, Marikina City Hall, and Marikina Riverbanks.
Tropicana Garden City is just a short distance from educational, medical, recreational and leisure areas like Ateneo De Manila University, University of the Philippines – Diliman, Amang Rodriguez Memorial Hospital, Sta. Lucia East Grand Mall, SM Marikina, and Robinsons Metro East, and just a few meters away you'll find the Blue Wave Marikina Mall, Blue Wave Robinson's Supermarket, Metrobank Sumulong Branch, and the Toyota Marikina Showroom.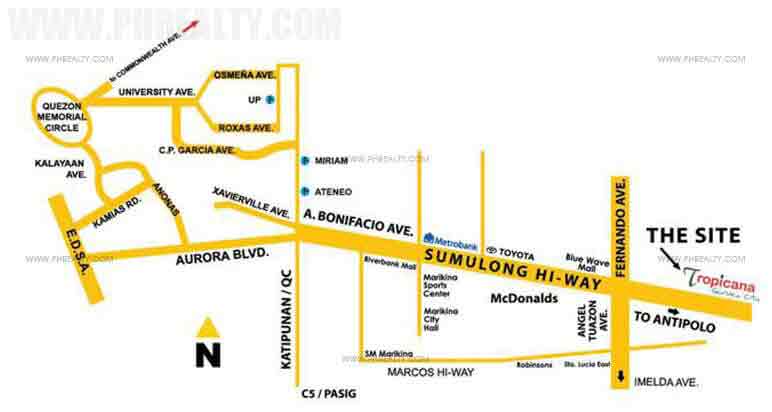 Tropicana Garden City is right along the Sumulong Highway, Marikina City. It provides you and your loved ones quick access to places of interest, including malls, schools and places of worship as well as leisure and recreation venues. The property is located near the city hall and sports center, providing you a quick access to two of the most important places in the city. The property is also near the Marikina Riverbanks, which is known as a jogging place for many people who want to stay active by including exercise into their daily lives. This condominium property is also located near medical, educational and leisure places.
The University of the Philippines and the Ateneo De Manila University are near it too. Other key places near it include the Sta. Lucia East Grand Mall, Amang Rodriguez Memorial Hospital, Robinsons and SM Marikina. They are close to the property. You can also find the Metrobank Sumulong Branch, Blue Wave Robinsons Supermarket and Blue Wave Marikina Mall just only a few minutes of drive away.
Speaking of places of interest, malls are located just a few meters away from it. Robinsons Mall and Robinsons Supermarket is less than a kilometer from the property. The Bowens Store, Raizer Shoes and Executive Facial Care are also close to it.
For food and dining options, Tropicana Garden City is near Tiboks Panciteria, Tiboks Eatery, Ate Badings Carinderia and 24 Hours Burger Shop. For schools, the condominium property is near the San Isidro Day Care Center, Balanti Elementary School, Marikina Science High School, Roosevelt College and Integrated School for Young Children are less than a kilometer away.
For healthcare needs, the property is close to the Marikina Valley Medical Center, San Isidro Health Center, SDS Medical Center, Jesus Immaculate Concepcion Hospital and VT Maternity Hospital.
Tropicana Garden City lets you live in the city while offering you a wide and open space that provides you with fresh ambiance and lovely surroundings with the view of the astounding Sierra Madre Mountain. It lets you live in a peaceful surroundings with pocket parks and lush gardens while letting you experience the comfort and convenience of living in the city where to find modern conveniences located nearby.
This ideal condominium property is for single professionals, expats, retirees, investors and families looking to invest and buy a home in a strategic location that gives them an immediate access to the key places of interest they need for a convenient life. There are a total of nine buildings in the huge 17-hectare property. Units to choose from, as mentioned, are two-bedroom units, studio type units, three-bedroom units and combined units.
Unit owners can also enjoy the lavish and excellent facilities, including a day care center, multipurpose court, clubhouse, children's pool, adult pool, jogging path, game room, fitness gym, meditation area and children's play area. All these facilities and amenities let you live a convenient and comfortable life in the city while also achieving peace of mind with a breath of fresh air in its 60% of free and open space.